The Livcom Awards 2010
Welcome to Chicago, host of
The International Awards for Liveable Communities 2010 (The LivCom Awards)
As Mayor and on behalf of the City of Chicago, I welcome the International Awards for Liveable Communities 2010 (LivCom).
Few issues facing our society today are more urgent than creating a healthier, more sustainable society for ourselves and future generations. The City of Chicago has worked to improve the quality of life in our neighbourhoods through initiatives that protect our water, clean our air, restore our land and save our energy. I am committed to making Chicago "America's Greenest City" by investing in citywide infrastructure and programs that will ease our demands on the environment, create jobs and promote good health.
A special opportunity to network, gain access to comprehensive resources and exchange best
practices, this conference showcases progress in sustainability and spurs other innovative programs and solutions to emerging issues. I commend the attendees for their commitment to making our communities better places to live, work and raise families and send my best wishes for much continued success in their endeavours.
While you are here, I hope that you will take time to discover all that makes Chicago a great place to live and visit. I know you will like what you find. From our great architecture and beautiful Lake Michigan shoreline to our exciting nightlife, Millennium Park and many world-renowned cultural institutions, our city offers something for everyone.

Sincerely,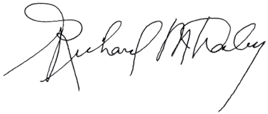 Richard M. Daley
Mayor of Chicago