Welcome to Songpa, host of The International Awards for Liveable Communities 2011
As Mayor and on behalf of the city of Songpa, Seoul, Republic of Korea, I welcome the LivCom Awards 2011. Songpa is a big city with 690,000 residents. Its historical breadth as the pivot of an ancient kingdom some 2,000 years ago remains very much alive to this day. Songpa has also elevated Korea's national prestige by hosting the 1988 Olympic Games. At this point, we are proud to announce that we are hosting the LivCom Awards 2011.
By inspiring the spirit of "Think Globally, Act Regionally" in order to cope with climate change, Songpa is building a cornerstone for sustainable growth in the areas of culture, welfare, and environment. The city is also pooling the efforts of the whole community to make Songpa the world's best liveable city.
There are also other collaborative efforts to accomplish sustainable growth of the community, including the City of Water: Water-Way Project, which connects four waterways with a total length of 27km; the Alternative Energy Development Project, which fulfils both environmental and welfare needs by supporting those on low incomes through profits from the operation of public solar power generators; the River Restoration Project for the diversity of the ecosystem; and the construction and utilisation of the 116km-long bicycle path to reduce greenhouse gas emissions and to improve the health of the residents.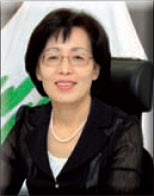 Park Choon Hee
Mayor of Songpa
Songpa is the city where human beings coexist with Mother Nature, a place where one can enjoy the blue and green colors of nature anywhere, anytime, and a World Health Organisation (WHO)-approved "Safe City". Now, Songpa, as a representative of South Korea, is ready to present its splendid culture and history to the global communities.
I look forward to meeting each one of you at the LivCom Awards 2011 in Songpa.
Yours sincerely,

www.youtube.com/user/livcomawardssongpa
Park Choon Hee
Mayor of Songpa