LivCom Awards 2012
International Awards for Liveable Communities 2012
Finals -Al Ain City in the United Arab Emirates - 22 - 26 November 2012
Welcome to Al Ain, host of The International Awards for Liveable Communities 2012
Al Ain City in the United Arab Emirates is so proud to host "LivCom Awards 2012", the International Awards for Liveable Communities.
As the General Manager of Al Ain Municipality, I welcome the Awards, which will add a new achievement to Al Ain's record that includes the City's winning of a LivCom 2010 Silver Award in respect of the City's welfare programs in line with the best international practices and standards.
Such Awards and participations by Al Ain City give prominence to the United Arab Emirates in the international forum, reflecting the goals of Abu Dhabi Government to become one of the top five governments worldwide. It is an opportunity to appreciate the efforts of the persons who are in charge of Al Ain City's governmental and semi-governmental Authorities in general and Al Ain Municipality in particular for their vital and distinguished projects throughout the last years. This is an incentive to reach excellence and will give the City an opportunity to obtain further applause on all international levels.
Al Ain City won several awards, the last of which was UNESCO's registration of the City as the first Emirati site on the World Heritage List in 2011, in addition to the award of technological intelligence for governmental organizations from the 2011 Hexagon – Intergraph Exhibition.
With regard to the vision of Al Ain Municipality in achieving excellence and sustainable development, we work on executing distinguished projects including modern infrastructure, sidewalks, playgrounds and sustainable housing communities. Meanwhile, comprehensive municipal services are delivered to the citizens' houses. We also adopt the principle of corporate social responsibility "CSR" and engage the community in our goals in order to improve the services and provide welfare.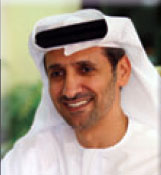 Dr. Matar Mohammed Al Nuaimi
General Manager of Al Ain City Municipality
Tourism, heritage, climate and security are the foundations of Al Ain City "The City of Oases", making it the City of sophisticated international standards, which combines the glorious past with the splendid present. It is the city of lofty mountains, wide plains, green parks and golden sands. Al Ain is a harmonious mixture of marvelous nature and urbanization.
You are welcome to LivCom 2012, which will be held in the city of innovation and beauty.
Sincerely,

Dr. Matar Mohammed Al Nuaimi
General Manager of Al Ain City Municipality